Hi everyone - Jan here again today. This month I decided
to "go blue".
I've used a large blue and a small white "Heirloom" flower
here, along with a "Swarovski Crystal" and several little
"Roses".

Another small "Heirloom" and more roses. I've also scattered
some small "Mini" flowers around the page.


The beautiful "Wild Rose" flower was the hero of this page,
along with the "Hibiscus", both in the gorgeous brown
tones I needed . I also added a little "Brown Satin Leaf
Garland" and "Coffee Satin Flower Garland"

I indulged in a little fussy cutting and used this to enhance
my clusters.

I also sprayed some roses and dipped some 'Maple Leaves"
in Mica Flakes.

I Glimmermisted some lace to get just the colour I wanted.


Thanks so much for dropping by - I hope I have inspired you
just a little.
Visit our
Facebook
Page to keep up with all the happenings
at Green Tara.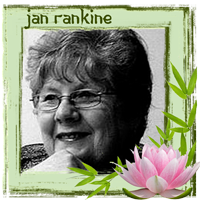 Until next time -
Luv Jan xx