"Make a Difference"
Hello again everyone, Jan here today with my first post for the new term.
On this layout I've used a mixture of white and burgundy flowers,featuring "White Swarovski Crystal", "4cm Heirloom", "Sakura", "Laurel", "Velvet Leaves", "Silver/Acrylic Spray",
and "White Rosebuds".
Here I have included a white "4cm Primula", the beautiful "Laurel",
a pale pink "Swarovski Crystal", White "Cherry Blosssom", and
part of a "Silver Diamente Trim".
"Beauty is..."
I had a spring garden in mind when I created this layout. There are so many gorgeous Green Tara flowers it's not difficult to find something to use wherever you want.
"Swarovski Crystal Pale Pink", "Violet Cherry Blossom", "Purple 5cm Azalea"
Pale Blue
7cm"Wild Rose"
, Pale Pink 5cm
"Tutu", 4cm Yellow "Primula" Pink and White
5cm "Azalea, Rose 3cm "Swarovski Crystal",Purple 3cm "Velvet Leaves", 1.5 Lime "Mini Flowers", 3.7 "Metal Heart"
Pale Pink 25mm
"Jute Ribbon"
, Purple 5cm
"Azalea", Yellow 6.5 "Heirloom",
Cream 5cm "Azalea", Green "Satin Flower and Leaf Garland",
"You"
The White
"Skeleton Mesh
" in the centre inspired this layout. I added 1.2cm
White Lace
along the bottom.
Photo by Zhang Jingna
White 5cm
"Swarovski Crystal", 4cm White "Lace Pearl" 4.5cm Black "Satin Lollypop", White 1.5cm "Rose", Black 1.5cm "Rose"White 25mm "Organza Satin Rose",
White "Velvet Leaves", Black "Skeleton Leaves", Silver/Acrylic "Teardrop Spray",
Silver Acrylic "Diamante Stem" (Flower only)
"Swarovski Crystal White"
More
"Teardrop Spray"
, White 7cm
"Heirloom", Black 4.5cm "Heirloom" and a 16cm Silver/Pearl "Butterfly"
Please visit our
facebook
page
to keep up with everything happening at Green Tara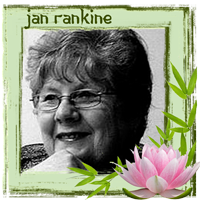 Thank you so much for visiting today.
Luv Jan xx