"It's the Simple Things"
Hi everyone - Jan here again today with three very different pages
to share with you. I've been playing with my "Gelatos" again and I
have to say I just love them.
On this page I have used "Azalea" "Camelia" "Tutu" &
"Cherry Blossom" flowers, along with the versatile
"Velvet Leaves".
I've also added a little piece of pink "Leaf Garland" ribbon.
Here I've used a "Satin Rosette" "Swarovski Crystal" Silk
and a little "Cherry Blossom".
This pic shows some of my background where I've
used my "Gelatos". Green Tara "Cherry Blossoms"
and some tiny "Rosebuds" finish off this corner
beautifully.
"When I Think of Love, I Think of You"
I used some of Green Tara ribbons and trims on this page. The ribbon
on the left is"Self-Adhesive Flower Garland" and I've added some
white "Pearl Trim" to the outside edges of the photos. There is also
some of the new "Washi Tape" on the page.
"Satin Rosette", 4cm "Heirloom", "Swarovski Crystal" are used
here along with some "Roses" and "Green Velvet Leaves".
This beautiful ivory "Azalea", along with a black "Primula" and a
pink "Rose" and some little "Rosebuds".
"Life's Good"

I created this page for the "White With 1" September Challenge.
I've used my "Gelatos" on the background, and of course I've
loaded the page with Green Tara goodies.
Thanks so much for dropping by.
Don't forget to visit our
facebook
page.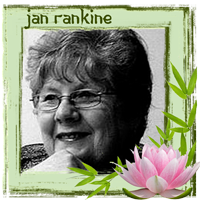 Luv Jan xx